Boost Literacy with STEAM
by PCS Edventures
Sep 22, 2021
Boost Literacy with STEAM
With the exponentially increasing popularity of STEAM (science, technology, engineering, arts and math) instruction, literacy might seem to take a backseat. But readers and writers of the world, fear not — there's a place for you yet! Subtle but ever-present, literacy is a key player in STEAM education.
While sciences and mathematics may take center stage, literacy skills have always been waiting in the wings, ready to make their debut. Many PCS Edventures products already feature English Language Arts (ELA) connections within their engaging activities.
Both Discover Digital Video LAB and Traveling Artist kits are flexible for in-person or distance learning.
Click to View Full Size
Complete with interactive slideshows, video demos, and more, implementing cross-curricular experiences is simple no matter where this school year may lead. Keep reading to find out how!
Why Should I Embed Literacy Skills into my STEAM Instruction?
STEAM fosters college and career-ready learners. As college-level texts and workforce training programs follow more complex formats, comprehending and conveying ideas about a range of subject matter is important (DeBoer, Carman, & Lazzaro, n.d.). STEAM programs create authentic opportunities for learners to navigate nonfiction formats.
When educators deliberately tie literacy skills into hands-on STEAM lessons, their value becomes apparent and learners take notice.
Want to know how? Check out these tips for tying literacy into your STEAM instruction.
The Silent "L" in STEAM
How to Tie Literacy Into STEAM Instruction
Science and Literacy
Scientists conduct research, ask questions, and make discoveries. Of course, strong readers and writers do the same!
For instance, before witnessing surface tension firsthand, the Traveling Artist kit immerses learners in an exploration of how Japanese Suminagashi paper used surface tension to form "floating ink" designs. Creating their masterpieces brings the chemical concepts to life, making it simpler to comprehend a complex scientific topic. When we couple informational formats with hands-on experiences, literacy skills become exciting and genuine.
Scientists are also writers known to keep detailed journals of their explorations. Educators can use this to their advantage, modeling the writing techniques scientists use to make discoveries.
The Traveling Artist kits do just that with incredible English Language Arts extensions. Writers can keep a written record of their artistic travels around the globe. They're encouraged to add visuals just like a true scientific journal.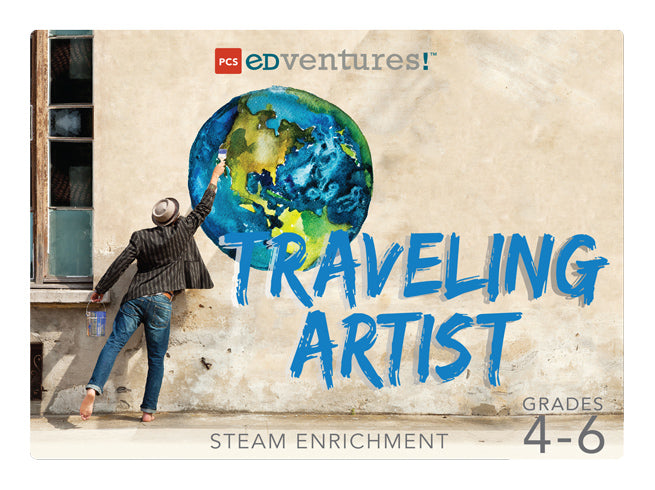 What's more, writing prompts and sentence starters are included to help you reach learners at all academic levels. You'll be amazed by the passion writers put into their entries!
Technology and Literacy
Literacy isn't just about reading and writing books nowadays. Online media is here to stay, and it's our responsibility to teach digital literacy as well. Whether through videos, blogs, podcasts, or even emails, we must learn how to read and write for different mediums.
The Discover Digital Video LAB package puts learners right in the action. Creating documentaries, game shows, or even music videos, learners must research topics and craft every detail from scripts to stories.
The number of Common Core State Standards for ELA captured within this kit is remarkable! From proper grammar to presenting knowledge and ideas, opportunities to teach literacy skills are plentiful. Check out the product page for a complete list of ELA standards within each grade level.
Engineering and Literacy
Fiction texts are the gateway to an engineering mindset.
Often before stepping foot in a classroom, learners listen to fictional stories that inspire wonder and creativity. These stories open their minds to infinite possibilities and, just like engineers, push them to think, "What if?"
Fiction stories also teach the art of problem-solving. Learners see the challenges characters face time and again as they work to achieve a goal. Reading fictional stories about characters who solve problems in creative ways motivates learners to do the same.
The Arts and Literacy
If an illustration or photograph can tell a detailed story, can the same be true for more complex artistic mediums? Absolutely!
In another adventure found in Traveling Artist kits, learners journey to Peru to explore how the Inca people used textiles to tell stories told during ancient times. By creating woven designs, they discover how the ancient Incan civilization shared tales and information through textile art.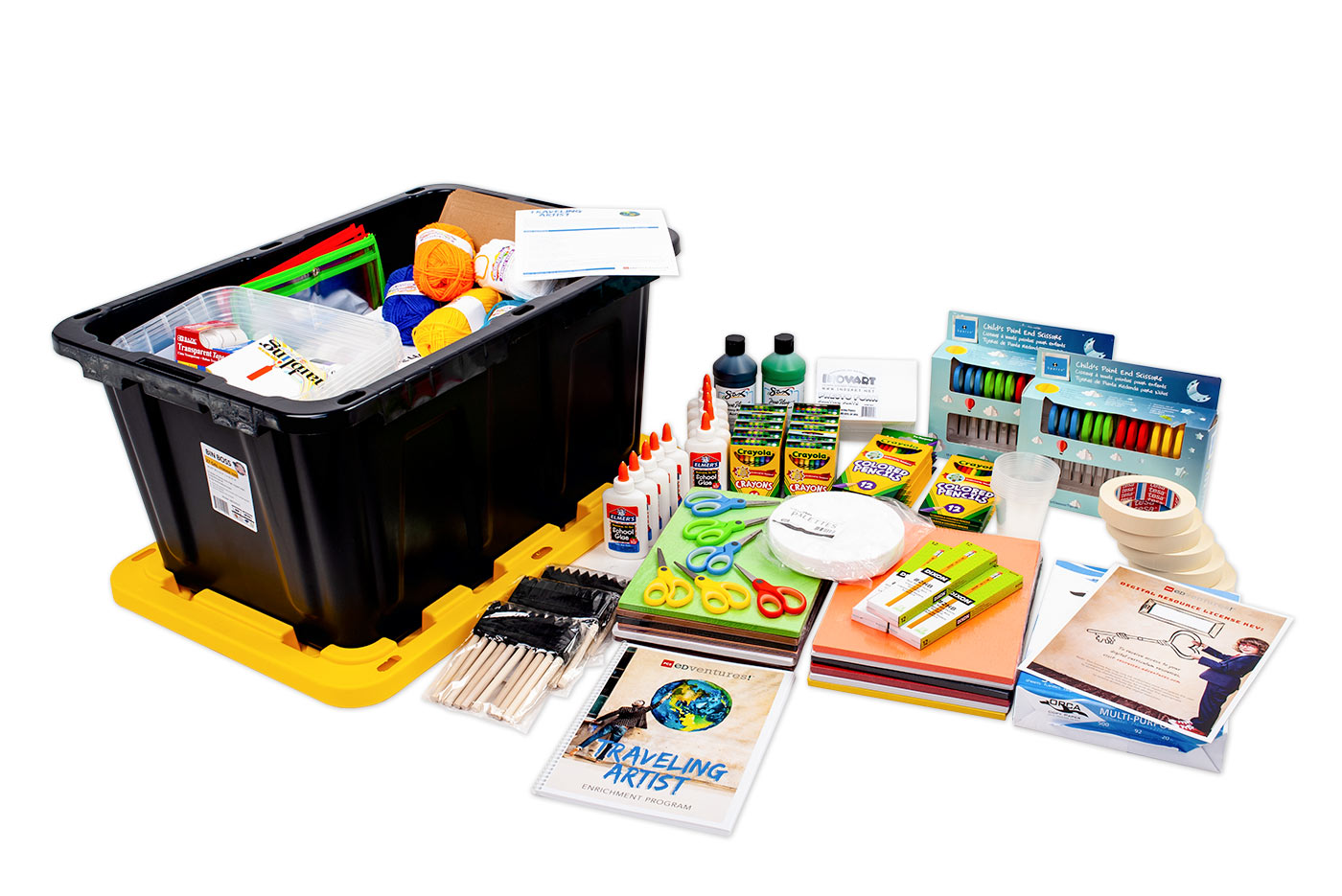 Storytelling becomes memorable within immersive experiences. STEAM ensures that learners have the necessary opportunities to share stories through art.
Mathematics and Literacy
We can't forget literacy in math! Quantitative data plays an important role in STEAM. How does this connect to ELA? Well, in recent years, you may have noticed an increased focus on supporting scientific thinking with written and oral arguments.
The National Science Teaching Association asserts that learners "should argue for the explanations they construct, defend their interpretations of the associated data, and advocate for the designs they propose" (NSTA, 2014). To help our learners support their claims with evidence successfully, educators must teach them how to accurately analyze data.
Encourage your learners to engage in mathematical conversations about data presented in charts, graphs, and tables. Better yet, allow them to create their own using the data collected during a student-led STEAM activity. Discussing interpretations of information before drafting written responses can help clarify misconceptions. Conversations also allow learners to practice putting their thoughts into words.
---
As you can see, connecting ELA standards with STEAM is simple. The more educators tie literacy into authentic learning experiences, the more confidently learners will use those skills in the real world.
Whether you're teaching in-person or virtually this year, be sure to check out Discover Digital Video LAB and Traveling Artist for easy-to-use kits packed with reading and writing standards.
What other ways will you incorporate literacy skills into STEAM? Share your ideas by leaving a comment below!
---
Author: Jessica Ventre
An experienced elementary educator and science instructional coach, Jessica's passion for STEM instruction and student-led learning is always at the forefront of her lessons and professional development workshops.
---
References
DeBoer, G., Carman, E., & Lazzaro, C. (n.d.). The role of language arts in a successful STEM education program. Retrieved from http://www.english-languagearts.com/uploads/7/4/3/4/7434899/_role_of_lang_arts_in_a_stem_program.pdf
Nsta. (2014). Science and engineering practices. NGSS@NSTA. https://ngss.nsta.org/practices.aspx?id=7.