A Year of STE(A)M Enrichment
by PCS Edventures
Jan 04, 2022
A Year of STE(A)M Enrichment
Tasked with planning a full year of STEM or STEAM instruction but not sure where to start? PCS Edventures' Enrichment Program Bundles take the mystery out of organizing relevant, year-long instruction.
Complete with professional development for educators and out-of-school time coordinators, our All-Inclusive STEAM Enrichment Bundles strategically link our most popular programs. From classic favorites to brand-new experiences, this list makes implementing hands-on learning simple in any environment.
What is an Enrichment Program Bundle?
These are popular program combinations that educators like you have enjoyed with their learners. Educators have found that dedicating a few hours per week to STEAM instruction can accelerate learning, boost student achievement and foster lifelong skills.
That's why we've compiled programs for all four quarters of the academic year, making it easy to implement 2-4 hours of weekly, quality instruction. We know you're going to love these year-long program options.
Our complete STEM and STEAM turn-key solutions serve up to 30 students with every single material needed. These bundles are organized by grade level and by grade band for your convenience:
Grade Level Programs Include:
2 hours of hands-on activities per week for 8 weeks each quarter.
Grade Band Programs Include:
4 hours of hands-on activities per week for 8 weeks each quarter.
For a complete list of featured products and purchase details, click the image below.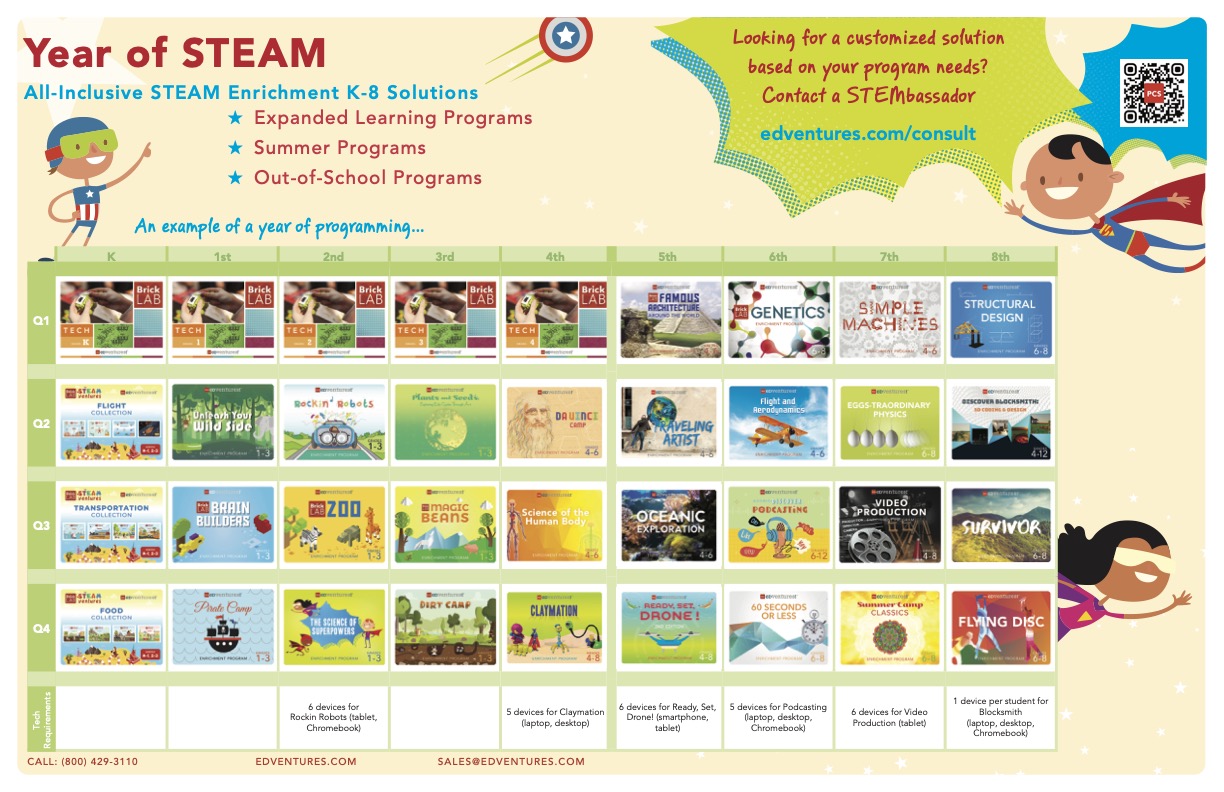 There are many other configuration options available that meet your goals and objectives. To find out which bundles meet your needs, consult with a STEM Program Specialist, or put together your own wishlist with this blank template.
Ready for more? Let's explore some of the outstanding programming options available in each bundle.
Grades K-3:
Get your youngest learners excited about STEAM and see their curiosity blossom for years to come. Our featured programs encourage the discovery of talents, interests and self-confidence at an early age. While building unique creations and problem-solving through engaging challenges, learners are given autonomy and the opportunity to realize their full potential.
Included in this bundle is also our latest product, Dirt Camp (Grades 1-3). Learners dig deep to unearth underground phenomena, discovering the importance of dirt for humans and a variety of creatures. Dirt Camp's multi-subject integration approach explores concepts that encourage critical thinking and reflection through collaborative, hands-on exploration.
Grades 4-6:
Our All-Inclusive STEAM Enrichment Bundles for Grades 4-6 give learners a clear view of our amazing world. They'll swim beneath the surface in Oceanic Exploration, soar through the air with Flight & Aerodynamics and Ready, Set, Drone!, confront natural disasters in Build a Better World, and even discover different cultures in Traveling Artist and BrickLAB Famous Architecture.
Along with exploring our expansive planet Earth, this bundle examines topics of a much smaller scale. Study the tiny inner workings of human anatomy and physiology in Science Of The Human Body. Take a frame-by-frame look at stop-motion movie making in our collaborative Claymation Enrichment Program. Throughout each gripping program, learners will discover that examining even the smallest details can have a big impact!
Additional BrickLAB programs are included for this age group as well! Check out BrickLAB Tech and BrickLAB STEM Foundations for more hands-on, thought-provoking instruction.
Grades 6-8:
Learners in middle school are looking for truly immersive activities that take them far beyond traditional classroom limits. That's why we've packed our middle school bundles full of thrilling, application-based learning experiences.
In 60 Seconds or Less, learners engage in friendly competition throughout physical science and engineering-based 60-second challenges. They can take learning to the great outdoors with Flying Disc and Survivor or into a virtual environment with Discover Blocksmith.
What's more, our featured products provide middle schoolers with a sneak peek at STEAM career paths they may be interested in pursuing. They'll assume real-world roles like architect, physicist and engineer throughout the team-building challenges found in Eggs-traordinary Physics, Structural Design and Drone Designers.
But that's not all — Learners can now become members of a production team in our brand-new program, Discover Podcasting! An easy-to-use digital audio workstation turns any learning environment into the perfect sound studio for sharing creative stories and boosting student voices. It's yet another way STE(A)M takes learning to a whole new level.
Get Your Enrichment Program Bundle Today!
Our year-long bundles make it easy to plan quality STEM instruction packed with engaging, hands-on experiences. But no matter the duration of your specific program, customizations are available! Our programs are designed to work with a wide variety of schedules. Connect with a STEM Program Specialist today for options that best fit your needs.
There's no time to waste! Explore these Enrichment Program Bundles today to fill your program's year with meaningful STEM and STEAM lessons educators and learners can't get enough of.
---
Author: Jessica Ventre
An experienced elementary educator and science instructional coach, Jessica's passion for STEM instruction and student-led learning is always at the forefront of her lessons and professional development workshops.